What really happens when you hit the 'Calculate fastest roundtrip'-button in OptiMap? The problem we attempt to solve is a classic and is called the 'Travelling Salesman Problem' or simply TSP.
Before we dive into this intrigueing question, some definitions are useful. Each location will be referred to as a node, with location number

denoted

. There are

nodes in total. The trip between a pair of nodes is called an edge, and the trip from node

to

is denoted

. The full set of nodes and edges is called a graph and is denoted

.
We note that in the context of driving directions, there is either a way to go from each node to all of the other nodes, or there is no way to reach that node at all. We will assume that there is a way to reach all the nodes, otherwise there would be no solution at all. For ease of notation, we say that the time it takes to traverse an edge is

.
Another characteristic of the problem we try to solve is that the time associated with an edge is not necessarily equal to the time associated with its reverse edge. This is the result of for instance one-way streets and that it's easier to turn right than left at an intersection. Thus, our graph is directed.
The first part of solving the problem is defining it. We seek to find an ordering of the nodes, starting and ending at node 1, that visits each location exactly once. This ordering should minimize the total time it takes to traverse.
There are

possible roundtrips that visits each location exactly once. Evaluating each possible roundtrip, a so-called brute-force approach gets infeasible between 10 to 20 nodes, depending on your patience and hardware. Actually, all known methods of finding the optimal solution use resources exponential in

.
With 9 or less nodes, it is feasible to write code in JavaScript. So in this case, you get the optimal roundtrip.
If we're willing to settle for near-optimal solutions, a number of methods are available. These are called heuristic methods. The simplest of these methods is to always travel to the unvisited node that is closest to the one you're currently at. This method is referred to as 'Greedy' in the performance results below.
There are better methods. 'Ant Colony Optimization' is one of them. Inspired by the way ants find food in nature, this method uses a swarm of ants, each of which is fairly dumb, to find an intelligent overall solution. Real ants leave pheromone trails when they walk. They can also smell these trails. If an ant finds food close to the ant colony, this trail will be traversed faster than the others and have a stronger smell, because the pheromone dissipates over time.
By letting virtual ants walk randomly around in the graph, we get roundtrips. The ant roundtrips are evaluated by the time they took to complete, with faster roundtrips being assigned a stronger smell. An important question is how the virtual ants choose which nodes to visit next. Probabilities are assigned to each edge going to an unvisited node, depending on its assigned time and how smelly it is:

Here,

is the smell assigned to edge

. The ants pick edges according to these probabilites. The constants

and

can be used to fine-tune the performance of the ant method.
Another trick which is called k2-opting is used when an ant has completed its roundtrip. We pick two edges of the tour, and see if the edges can be swapped to create a better tour.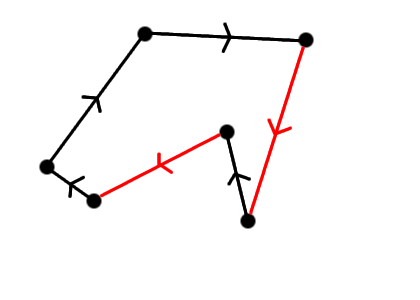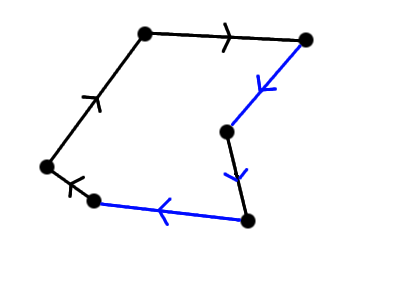 The k2-opting procedure is repeated until no two edges can be swapped to create a faster roundtrip. k2-opting is a cheap way of improving many TSP heuristics.
Performance:
| | | | | |
| --- | --- | --- | --- | --- |
| Test Case | Optimal Solution | Greedy | ACO | ACO k2-opt |
| n = 10 | 28 167 | 34 011 | 28 563 | 28 167 |
| n = 11 | 28 294 | 29 758 | 29 542 | 28 294 |
| n = 8 | 25 310 | 26 515 | 25 310 | 25 310 |
| n = 12 | 36 204 | 41 211 | 39 404 | 36 204 |
| n = 12 (Paris) | 11 141 | 12 705 | 12 062 | 11 141 |
| n = 12 (Berlin) | 10 570 | 11 429 | 11 789 | 10 570 |
| n = 12 (N.Y) | 7 608 | 8 714 | 8 361 | 7 608 |
| n = 12 (London) | 4 729 | 4 845 | 5 220 | 4 729 |
The numbers are in seconds. The ACO column is with 30 ants and 30 waves, the k2-opt ACO column is with 10 ants and 10 waves, to make up for the extra computation needed to do the rewiring. The results suggest that the current method should find roundtrips very close to the optimal.